Attic Insulation Experts in Atlanta and Nearby in Georgia
Attic insulation upgrades improve home comfort and energy efficiency
When your attic lacks the the proper attic insulation and air sealing, the effects on your home's comfort and energy efficiency are significant. An attic that doesn't meet insulation standards will lead to high heating and cooling costs, uncomfortable rooms, and uneven temperatures throughout your home.
PGRS: Professional Grade Roofing + Siding specializes in helping you solve these problems in your home. As the local member of the national Attic Systems network, we provide high quality attic insulation and air sealing services designed to make your home more comfortable and efficient. If you're interested in saving money on your heating and cooling costs and enjoying a healthier, more comfortable home, give us a call today at 1-855-557-5113 or click below. We offer free estimates in Atlanta, Smyrna, Newnan and throughout the surrounding areas.
Before and After
Before

After

After discovering that a family of squirrels had made their home in this homeowners attic, they also realized that they had inadequate insulation. PGRS removed all of the old insulation (along with the mess the squirrels made) and installed loose blown in Owens Corning Insulation @ R30. The customer did not want any insulation blown onto the storage area of the attic.

We built a retention wall around the storage area to keep all of the blown in insulation off of the platform.

Before

After

Get your home ready for winter and save money in the process. Blown insulation in your attic has an impressive long-term payoff. You could see your energy bills reduced by as much as 15 to 25 percent. The PGRS team installed loose fill fiberglass insulation to increase the entire attic to R-39. Loose fill insulation is adaptable and can conform to any space without disturbing any structures or finishes. The greater the R-value, the more reduction in heat flow. R-19 bat insulation was installed around air handler and on storage platform along with an insulated attic stair zipper tent. This happy PGRS customer will reap the energy benefits in winter and summer for years to come.
Cellulose insulation is the ideal way to upgrade attic insulation and improve R-value.
Our complete attic insulation services in Metro Atlanta
Blown-in cellulose insulation
Rigid foam insulation
Radiant barriers
Air sealing
Duct sealing
Duct insulation
Ice dam prevention
Attic mold prevention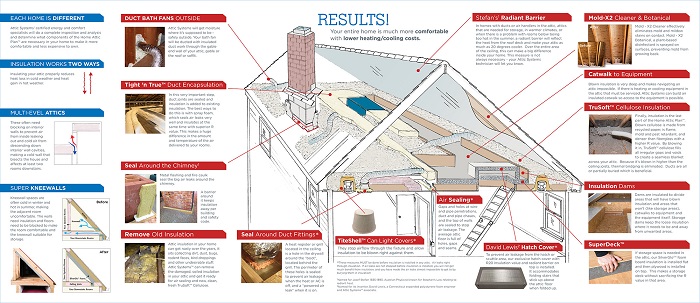 Click to enlarge the diagram and see how we provide complete attic efficiency and comfort solutions.
Signs of an attic insulation problem — and how we can fix them
Uncomfortable temperatures: Is your house too hot in the summer and too cold in the winter? When your attic is under-insulated, it lacks the thermal barrier your home needs between the living space and attic. Installing blown cellulose insulation to meet recommended insulation levels will help prevent air flow between the two spaces, ensuring the air you pay to heat and cool stays in the living space.
Expensive HVAC bills: Insufficient insulation forces your HVAC system to run longer to get your home to the right temperature, which is obviously an expensive process. When your home has the recommended insulation levels, your furnace or air conditioner will be able to get your home to the temperature you want as efficiently as possible.
Uneven heating and cooling: A common home comfort complaint is that there's one or two rooms that just won't seem to cool down in the summer and warm up in the winter. Poor air sealing and attic insulation are often the cause of these problems. An air leak in that attic will affect the room directly below it most significantly, but it will also impact the overall home. For this reason, it's important to have consistent air sealing and insulation throughout the attic.
Visibly inadequate insulation: You can often tell if you have enough attic insulation just by looking at it. The U.S. Department of Energy recommends having between 13-18 inches of insulation, depending upon your local climate. According to the Insulation Institute, 90% of homes in the U.S. are under-insulated, and there's a good chance yours is too.
Upgrade your home comfort and efficiency with quality attic insulation
Tired of high heating and cooling costs and uncomfortable rooms in your home? PGRS: Professional Grade Roofing + Siding is here to provide you with a quality attic insulation solution that will reduce your energy expenses and help create a more comfortable home all year long.
If you're interested in blown cellulose insulation, air sealing, or any of our other services, give us a call today at 1-855-557-5113 or contact us today to get started with a free estimate. We offer all our attic insulation services in Atlanta, Smyrna, Newnan, Ellenwood, Fayetteville, Mableton, Peachtree City, Douglasville, Stockbridge, Carrollton and throughout the surrounding areas.
Looking for a price? Get a no cost, no obligation free estimate.