Attic Insulation in South Metro Atlanta
Improve your home's energy efficiency with quality attic insulation in Georgia
A more efficient home. Improving attic insulation will prevent air leaks and keep conditioned air in your home, saving you money.
At PGRS, we can help you with your commercial or residential insulation needs. Having adequate insulation is extremely important for energy efficiency. Georgia's climate is unique; we have very hot summers and extremely cold winters. Having the right amount of insulation can help you keep costs down by regulating the temperature in your home.
Do you need more attic insulation in your home? If so, give us a call today at 1-855-733-0474 or click below to learn more about how we can help you. We offer free estimates on all our insulation services in Smyrna, Atlanta, Fayetteville and the nearby areas.
The benefits of the Atticat Insulation system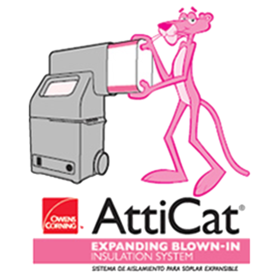 Atticat Insulation is a year-round need, despite the fact that many associate it with keeping your home warm in the winter, here are a few more benefits of a properly insulated home:
It keeps your home cooler in the summer, and warmer in winter. That saves you energy and money.
It prevents damage in your home; with proper insulation you can prevent a large amount of moisture build up which causes mold and mildew. The damage caused by moisture is costly to repair, and pretty easy to prevent.
It can actually increase the resale value of your home. The proper insulation is a huge plus for energy efficiency, which can greatly increase your homes value.
We utilize the AttiCat blow-in insulation system for our projects. It keeps costs down for you, and is a very quick process. We will be in and out in no time.
Call us for all your insulation needs
Thank you for considering PGRS for your project. We look forward to serving your needs. For questions, comments or a FREE consultation, please contact us at 1-855-733-0474 or online. We serve in Fayetteville, Atlanta, Smyrna, Newnan, Ellenwood, Douglasville, Peachtree City, Carrollton, Mcdonough, Stockbridge and throughout the surrounding areas.
Looking for a price? Get a no cost, no obligation free estimate.